This is by no means going to be any kind of tutorial, but I'm in the process of making another one of these up (when time and such permit) and figured I'd show how and where to cut down the 360 CL board to make it fit in this thing and what PS3 shell I'm using this time around, then maybe some other parts of it as I go if I'm in the documenting kinda mood.
First off it must be the 360 Wired CL version of the board, no other 360 controller board can be cut down this small by a long shot, and as far as Wireless goes, see my
360Duke Controller
if you want to see how small the CG wireless board can get, but it's nothing in comparison to this and the amount of trace rebuilding that has to be done to the CG (and CG2) ones are insane compared to this CL one. The older style 'Matrix' boards would be even worse if you were to try it with them also.
Here is the max amount of the board you can cut down to and still have a functional board after a 1 wire rebuild. If you want both Rumble circuits to be intact as well a little more work is required, 1 wire for the Heavy Rumble and then more work for the Light Rumble that's covered later. You can of course cut outside these lines and have it be any size bigger than this, but this is the smallest you can cut it down to and not have a real mess to rebuild on it.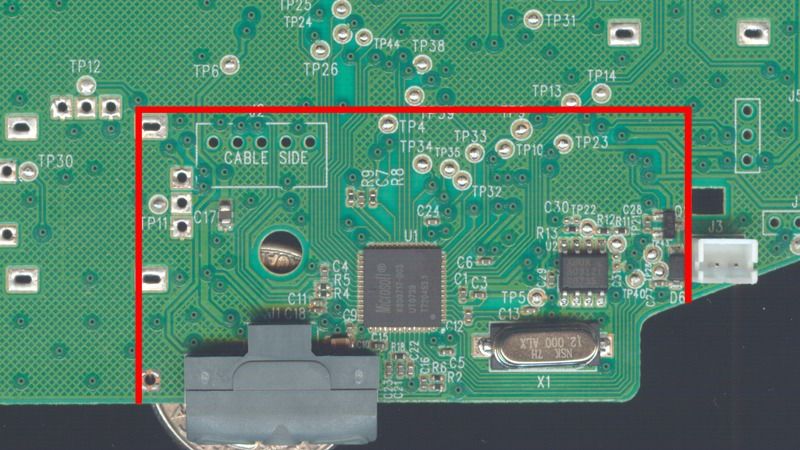 Make sure you use 30AWG wire at most, anything bigger than that and you'll run out of room and have a real mess real fast.
The one trace rebuild is a wire that goes from a trace to TP23 and that's it for that part. To rebuild the Heavy Rumble circuit you'll need to prep a couple of Vias and solder in another wire.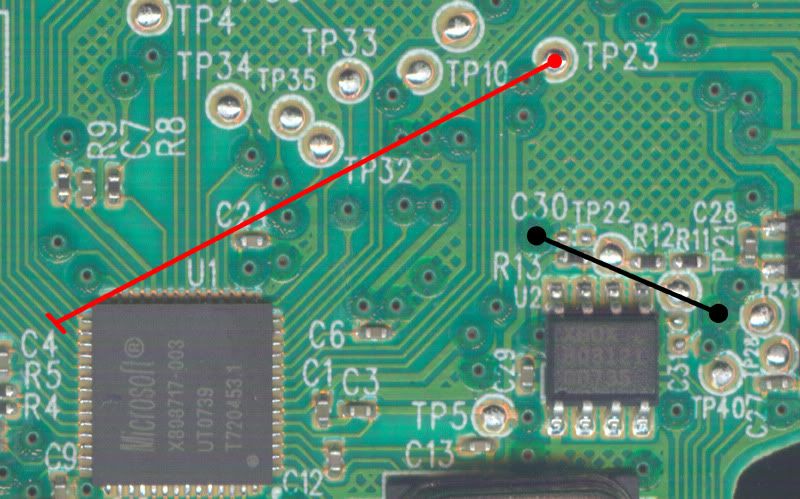 This is what the board looks like after being cut down and rebuilt.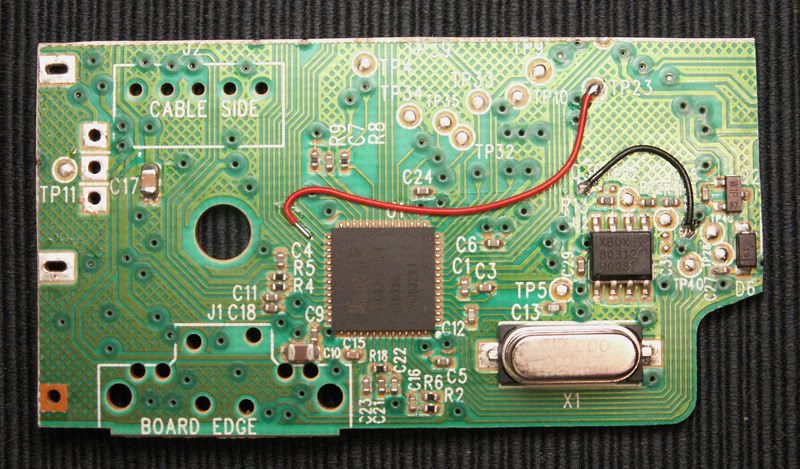 One more thing, if you don't plan on using the headset jack at all you need to install a jumper wire between these 2 points. If you remove it and don't wire up some other headset jack there you do need the jumper wire installed or a Wireless Headset will never sync up with the controller because it will always 'think' a Wired Headset is plugged in since the Headset connector is a 'closed' type, well half closed anyway.
More info on the Rumble motor circuits if you still want to have that feature.
The Heavy Rumble circuit is still on the board with it cut this way, it just needs that Black wire above soldered in place, then you just need to solder the motor wires up to the leads on the Diode (D6) that's still there.
The Light Rumble circuit has to be rebuilt and it's a pretty simple setup, just a Diode and NPN Transistor. The + side of the motor connects straight to the 5v line of the controller (wherever as long as it's on that 5v line) and then the Light Rumble signal line from the board (The Via at R8) is what turns on the Transistor (Base) which then turns the Ground on to the Rumble motor. So on the Transistor it's Emitter goes to Ground, Collector to the - side of the Rumble motor and the Base goes to the Via at R8. The Diode gets installed Anode to the Emitter of the Transistor and the Cathode to the 5v line of the controller. You can either desolder and use the original Transistor and Diode or use any general purpose ones.
After the Trace/Rumble rebuild you have access to every line for every function of the controller on that tiny board in one spot or another and then it's just a matter of soldering a wire to the right Trace/TP spot for what you want. Practice up on soldering to traces if you aren't proficient at it, and if you've never tried it then don't until you've practiced a ton on something else that you don't mind messing up on. This thing will be in such a state that if you mess up in most places even once you'll be arsed out or have a very tough time getting the problem resolved.
This isn't a complete trace out of the board, it's missing a few things, Rumble lines, LEDs, and a few more, but it's to give you an idea and show that you'll have to solder to a lot of traces (13 or so) and some Vias to get this thing all wired up, some of the Via connections can be made on the top side of the board to keep it a little less cluttered. Again soldering to a trace is one thing on a board that's just getting repaired, doing it to a board that you'll be moving around a good bit before it's all said and done means the soldering will have to be done well and the wires secured in place, and even with 30awg wire it can get cramped kinda quick if you're not watching. There are a few 'easy' ones that you still have a nice TP spot to hit, but they're not the majority.
-----------------------------------------------------------------------------------
The PS3 controller shell I'm using this time around is one of the White ones, which also happened to have a newer
MSU_VX4_0.09
version board in it, Sony just can't stop flushing money down that revision pit, like to have just 10% of what that's costing them, but I digress.
Making the buttons up is just a matter of cutting the tops off the PS3 buttons and the 360 buttons, then gluing them together. I personally prefer Devcon Plastic Welder for most plastics I have to glue together. You'll also need to slightly modify the inside of the shell where the buttons are as there is a little 'lip' that will catch on them after they're made up like this, and all that has to be done is sand or Dremel that down so it doesn't catch the new buttons. If you plan to keep the PS3 buttons that isn't necessary.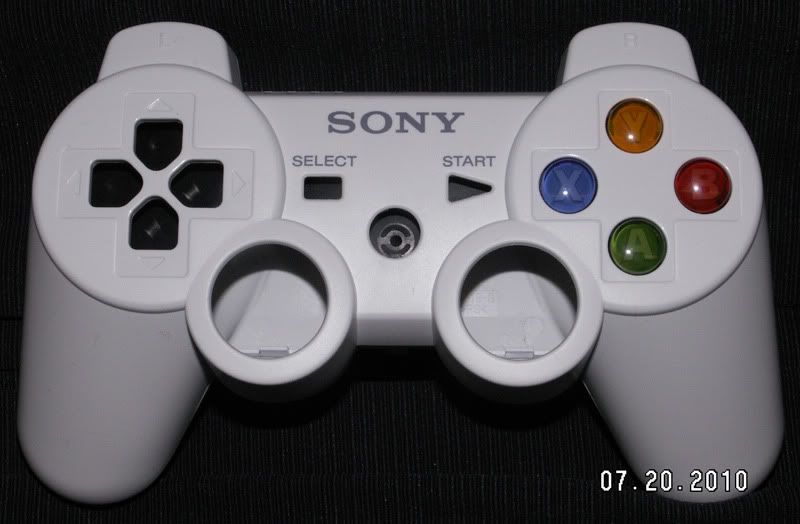 If you're planning to keep a Headset connector on the controller you have the option to install it wherever you can make the room for it. I chose the more aesthetic looking place for this one and all that does is make it more difficult as it gets in the way of the CL board. The Headset connector I'm here using is from Mouser (part# 161-2508 EX) though any 2.5mm Stereo Closed type will work as long as you can make it fit in there and then wire it up correctly. This one is held in place with Hot Glue.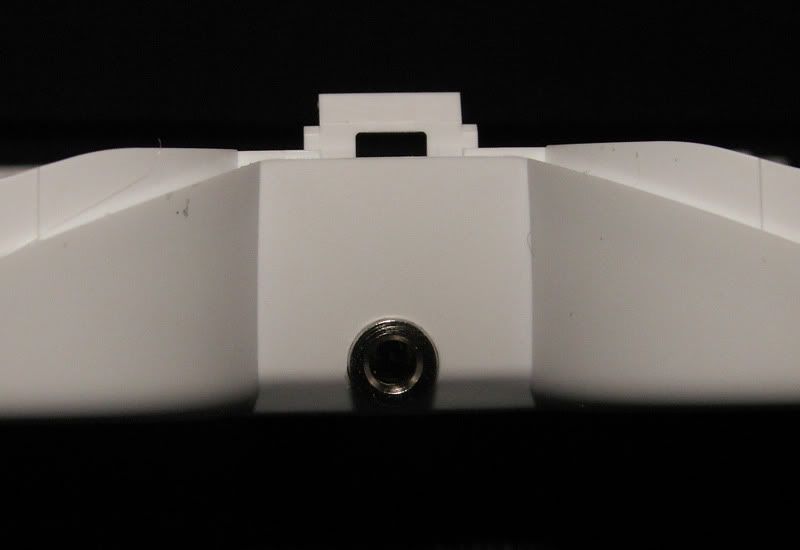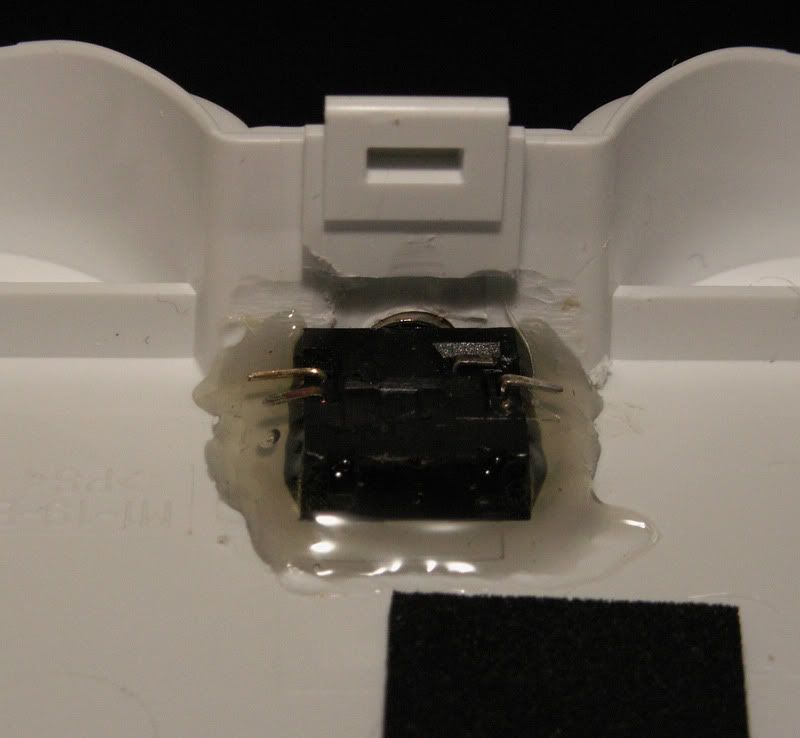 That's where this one is for right now, though like I said if I'm messing with the other parts of it later on and am in that documentation mood I'll post up what goes/went on there as well.